John Crowley
Completed 1/2/2022, Reviewed 1/2/2022
5 star
The first book of the year may be my favorite for the year. I was a little concerned going into it because I was a little mixed in my feelings toward Crowley's Ka and thought I might be getting the same style, this time for over 500 pages. Well, it was kind of the same style: amazing, sprawling prose with a complex, sprawling narrative, and only a little plot. Actually, lots of little plots that wove in and out of each other. But this book really blew me away. While the prose was overwhelming at times and the jumping back and forth in time often confusing, I found the experience to be exhilarating. This book won both the 1982 Mythopoeic and World Fantasy Awards and was nominated for slew of others, including the Hugo and Nebula.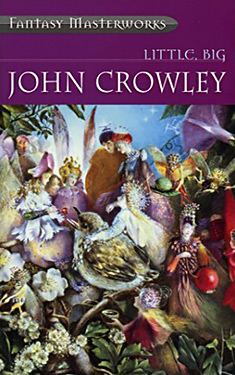 The basic plot is straightforward. Smokey, an anonymous guy who makes his way from the suburbs into the big city, falls in love with a rural woman, Daily Alice, from upstate. He marries her and becomes part of a Tale, one in which generations of her family have interacted with the Faerie world in both subtle and overt ways. Later, their son goes to the big city to make his fortune. There he falls in love with a woman who eventually disappears. As time goes on, the great Tale of the family seems to come to a close and their ultimate fate is revealed.
There is so much more to the story, though, than the plot. There are a ton of characters, mostly Daily Alice's children and close and distant relations. The book also goes back to the meeting of John and Violet, the founders of this faerie influenced family, and comes up to the present. At first, it's all a little overwhelming. Fortunately, there's a family tree at the beginning of the book that you can refer to help you with all the people. Despite there being so many characters, I thought their development was quite good. I empathized with both Smokey and his son, Auberon. This is probably because they saw themselves as outsiders, which is an easy role for me to identify with. Daily Alice was a little distant, but I think that was intended as she is the one with the closest faerie ties in her generation. I really liked her sister Sophie and her Great-Aunt Cloud. I think I liked them because they tried to make sense out of their family using a bizarre card deck, sort of like Tarot, peering into the past and the near future. Despite their use of the deck, they were both the most grounded of the people in the family.
One of the main characters is the house they live in. It's an architectural wonder: five houses built into each other in a sort of star shape which itself is at the center of a pentagram of five towns. The number of rooms, steps, floors, etc., is like a calendar. Inside is like a maze. It also seems to be the doorway to the faerie realm, although generally, everyone tries to ignore the coincidences. Even when one of the babies is replaced with a changeling, it is little discussed.
There is also a rather peculiar subplot with a distant relation to the family. A woman who is a powerful wizard tries to find out about a strange charismatic man who seems to be headed for the White House. I have to admit that was the storyline that lost me. I had to look up the plot details on Wikipedia to figure out what she and this man were about. It didn't ruin the story though, and tied in with the family as time went on.
This was quite a long book, but I was happy to discover it's written in long chapters with lots of titled short sections. It didn't make reading it seem as laborious as I thought it would be. The physical trade paperback edition is oversized and has a small font. When I got it from the library, I thought it would be a two-weeker. I also think this would be a tough book to listen to. There are times the prose goes on and on. It's beautifully lush, giving great insight into the characters minds and emotions, not just landscape descriptions. But I think it could be confusing because of it. That's just my opinion.
I give this book a resounding five out of five stars. It has a huge cult of fans and a legion of detractors, so it has mixed reviews on sites like Worlds Without End and Goodreads. The biggest complaint is that it doesn't seem to go anywhere and is hard to follow. I think the thing to remember is that it is a rambling multi-generational saga that pulls you into the uncertain nature of the world of faerie, beginning in the 1800s and ending in an alternate near future, told in exquisite detail, almost like a character study but with lots of characters. It's a book that you must read with intention. It cannot be picked up for five minutes here, five minutes there. Every time you sit with it, you have to give it time and space. I thought it was superb, drinking in every sentence, every phrase, even when I wasn't sure what exactly was going on. I loved how it ended even though I wanted it to keep going. This book ranks up there with Digger as one of my favorites of the Mythopoeic winners.