Carol Kendall
Completed 1/12/2022, Reviewed 1/12/2022
2 stars
Another mixed bag of a book. This one is considered young adult; some even consider it children's lit. I felt like I was the wrong audience, even though I usually enjoy books for teens and even younger. I didn't connect with it. I eventually got caught up in the plot, but not really the characters. The writing is kind of okay and the concept is okay, but that's about it. Despite winning the 1983 Mythopoeic Award, it hasn't lasted in popularity. And I'm not sure if should. It was just kind of okay.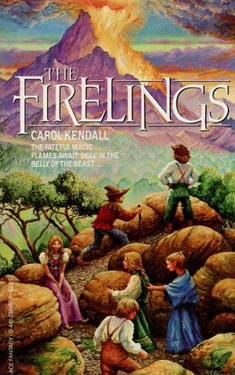 The story follows several Firelings (who I think are teens) as the volcano on their island, known as Belcher, shows signs of an impending eruption. In the past, they sacrificed a young person to appease Belcher. The last time this happened, they sacrificed a child with webbed toes and some Firelings think this was not acceptable, which is why Belcher is at it again. So they become intent on sacrificing the teen who should have been selected those years ago, Tacky. But maybe there's an alternative: escaping via the Way of the Goat.
Tacky wasn't that interesting to me, nor was his friend Life, probably the two main characters of the book. The character I liked most was the shaman's young assistant, Skarra. He had low self-esteem from the abuse he took under the shaman and hadn't really even learned much yet. But with Life's help, he very slowly comes into his own. I also liked Joke Eye, the mother of the little boy who was sacrificed five years before. She has a statue of her son Hulin which she talks to, pretends to feed, and interacts with it and her family as if he is still alive. The character is sad but colorful.
You've probably noticed the strange names of the characters. They all have strange names, as do the places in the story. And there are a lot of made-up names of things. This all was very confusing for most of the book. The person names and place names could have been interchangeable. This book was a prequel to another book by the author and I wonder if I would have been better introduced to the names in the first book. Instead, it made my head swim.
The world building was okay. Every part of the island had a name. The land features resembled a person from above, so Belcher had eyes, a nose, a mouth, arms, and legs. The author also had glyphs and illustrations of goat hides with the glyphs which was nice.
I give this book two stars out of five. I didn't really like it. I thought the writing left something to be desired. There could have been more descriptions of the places and the Firelings. While there was some, it didn't create a world or very realistic people. When I looked at the other nominees, I was shocked that this book beat Marion Zimmer Bradley's "The Mists of Avalon", as well as eight other books. Even though I haven't read it, its celebrity and respect are much greater. And I bet Bradley's prose is much better. I'm betting it won because it was much different than most of the previous winners, having nothing to do with magic or faeries.