Patricia A. McKillip
Completed 1/23/2022, Reviewed 1/23/2022
4 stars
I love McKillip. Her stories are always rewarding. Of course, I've only read her award winners, but I have no doubt I would like many of her others. This is my fourth in this challenge and it's another four-star novel. This one combines art and magic with a shadow world beneath main one. Every so often, a transformation occurs and events seem to be lining up so that another is on the way. It's very creative and simply told, though the politics and the plot's climax are complex. This book won both the 2003 Mythopoeic and World Fantasy Awards.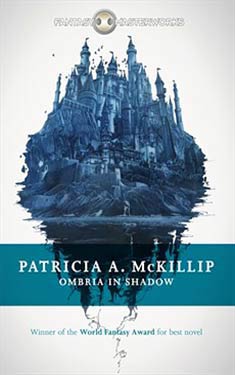 When the Prince of Ombria dies, leaving only a five-year-old son Kyel as heir, the evil great aunt and sorceress Dominica Pearl positions herself to rule as regent. She discards the Prince's mistress Lydea and threatens his adult bastard nephew Ducon with the death of Kyel if he tries to interfere with her reign. There are other cabals which want the throne and want to Dominica, Kyel, and/or Ducon dead. In the underworld of Ombria, there is another sorceress, Faey, who is rather apolitical, making spells, potions, and poisons for whoever can pay. Someone from one of the cabals purchases a poison from her to kill Ducon. Faey has a ward, Mag, who was made of wax. Mag wants to save Ducon from this fate. Through her quest, she brings Lydea and Ducon together to try to find a way to protect Kyel and somehow eliminate Dominica.
Yes, the summary probably sounds very complex. It is a lot of political intrigue, not something I usually like, but found, well, very intriguing. I think it's because the characterization is terrific and drawn superbly right at the beginning of the novel. I immediately felt sorry for Kyel, Lydea, and Ducon and wanted them to win. Kyel is adorable. Lydea was an innkeeper's daughter with no hope for a future outside the palace. Ducon is the artist, trying to keep his head low with his charcoal, chalks, and paints. Mag is also great character, strong and determined, as she learns to think for herself, though her decisions are not always the best. Dominica, aka the Black Pearl, is deliciously evil and you hate her from the start. These characters suck you in to the plot right off the bat and keep you going right up to the thrilling metaphysical ending.
The prose, as I've come to expect, is marvelous in its economy. I never felt like McKillip was spending too much time on flowery description. Yet she builds a marvelously complex world of shadow and light. It reminded me a little of China Mieville's The City and the City and a little of Neil Gaiman's "Neverwhere" (which I read before writing reviews). But McKillip makes the world her own.
I give this book four stars out of five. I think what I liked most about it is that the bastard, the waxling, and the mistress become the family none of them ever had, caring, loving, and protecting each other in the direst of circumstances. Even Faey the sorceress comes into play in this ragtag family of misfits. I also liked how McKillip used the power of art as the doorway between worlds. At first you feel that it's Ducon's hiding place, but then you realize that it's his superpower.
I have one more McKillip book to read in my Mythopoeic/WFA reading challenge, and I can't wait to get to it.