Peter S. Beagle
Completed 12/9/2021, Reviewed 12/9/2021
4 stars
This book is a ghost story, a bit different for the author, I think. It's about a 13-year-old girl's acquaintance with a ghost at a run-down Manor in rural England. It's beautifully told, amazingly evoking the mind of teenage girl who can see the supernatural, albeit ghosts or the mythical creatures that inhabit the rural English countryside. The narrator is the girl, Jenny, retelling her moving from New York to Dorset because of her mother's remarriage and evolution from despising it to loving it. I was astounded by how much I loved the book, despite being a little YA-ish. It won the 2000 Mythopoeic Award and was nominated for several others.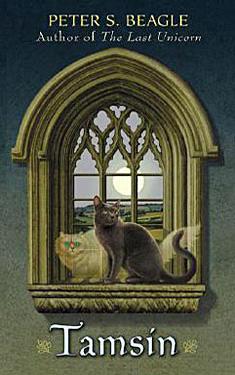 Jenny lives with her mom in New York. When she tells Jenny she's getting married and moving them to England, she does everything possible to try to move in with her dad. It doesn't work out and this shy, awkward girl with only a few friends moves to London. In London, the stepdad tells the family he got a job in the country, Dorset, to be specific, so they move there, making matters worse for Jenny. But there, she encounters the ghosts of a cat, and eventually, a nineteen-year-old girl named Tamsin. Tamsin's ghost is three-hundred-years-old, and longs for a lost love and is terrified of an evil judge who pursued her in life. Jenny and Tamsin become friends, with Jenny learning a lot about the denizens of the night and the circumstances of Tamsin's death. But things get dangerous as the powerful ghost of the judge comes back to reclaim Tamsin.
The book is written as a memoir by Jenny when she's nineteen, but she really captures the mindset of her younger self. She often describes things she's told no one, especially things that she finds embarrassing to recount. I thought that touch was quite excellent. It adds believability to this first-person narration. The prose is marvelous. Through the whole book, I felt like I was thinking like a thirteen-year-old. The world building is terrific as well: smart and believable. Beagle doesn't overwhelm you with mythical creatures. There's just a few but they are described well as are the encounters Jenny has with them. They are not simply elves or fairies. There's a boggart, a billy-blind, a pooka, a big black dog, and the Wild Huntsmen. They each have their purposes for appearing to Jenny and they have distinct personalities.
Jenny is terrific, although at first, she was quite annoying, as any thirteen-year-old would be faced with the events she does. But by the time she gets to Dorset, I really empathized with her in her dealings with her mother, stepfather and stepbrothers. As in New York, she has trouble making friends at school. So when she finally meets Tamsin, you're glad she finally has a friend.
I give this book four stars out of five. It's a very smart supernatural adventure. There's only a little bit of "things that go bump in the night" type of activity, meaning it's not a scary book. It's a relationship book during a girl's coming of age, where she learns something about herself and others. This book is almost as good as In Calabria, and definitely better than The Folk of the Air. It's the kind of writing I've come to expect from Beagle.