Patricia A. McKillip
Completed 12/23/2021, Reviewed 12/23/2021
4 star
I have yet to read a book by McKillip that I haven't liked. This one is no exception. It's a fun, alternative universe-urban fantasy retelling of the search for the Holy Grail, mixing motorcycles and cell phones with kings, knights, and sorceresses. And there's a lot of seafood! The book has the usual excellent prose and lifelike characters I've come to expect from McKillip. If I knew more Arthurian legend, I could say which of these characters represented which of the Arthurian knights and sorceresses. But even not knowing all that, I still found the book very enjoyable. It won the 2017 Mythopoeic Award.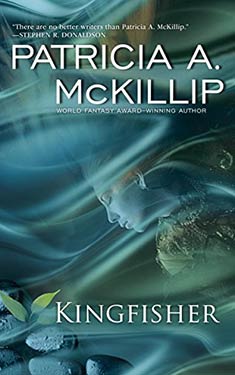 Pierce Oliver lives with his sorceress mother Heloise in a remote coastal village. He never knew his father, and after a surprising reveal by his mother, he decides to go to the capital to find him. He hops in his car and heads south. He stops after a while at a rundown restaurant to eat and rest. In the morning, no one is around and he sees a beautiful knife that seems to call to him. He takes it and leaves. It turns out to be a magical knife that he will need for some reason. He makes his way to the capital and happens upon the king's castle on the night the king announces the plan to find an artifact that has mysterious powers, a cup or cauldron of indeterminant size, shape, color, or make. At this gathering he accidently meets his long-lost brother, a knight, as well as his knight father. They and most of the other knights begin their quest for the artifact.
The general plot is simple enough, but there is a whole cast of other characters that come in and out of Pierce's life. Surprisingly, they are all done really well. My one and only complaint with the book is that the narration follows too many of them. The alternating narration moves the plot along well enough, but at times, I got a little lost trying to keep up with everyone.
I really liked the magical food trope that runs throughout the book. There are several restaurants in the story. Heloise has one, where Pierce learned how to catch crabs, prep food, and cook. The Kingfisher restaurant employs woman named Carrie who does marvelous things with fried seafood. The place also has what seems to be a magical all-you-can-eat Seafood Friday. And in the same town, there's a mysterious man named Stillwater who makes little amuse bouche that leave people voraciously hungry no matter how much they eat. What's interesting is that all these restaurants tie in to the quest for the artifact.
Another thing I liked was the transposition of fantasy-style kings, knights, and sorceresses onto modern day. The knights ride motorcycles, though they still fight with swords. It's sort of like a Renaissance Festival unleashed upon the present. When you start the book, it's a little bit of a shock realizing it's the present.
I wouldn't say this is a light, fluff book, but it is fun. There's some serious drama with different groups of people looking for the artifact for different reasons. There's treachery and malice to add some depth to the plot. There's suspicious fae. There's Carrie and her estranged relationship with her shapeshifting father. But it's those juicy subplots juxtaposed with the contemporary setting that make it a fun read. I give this book four out of five stars.