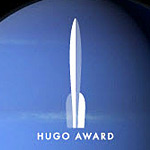 Back in 2012, I took a trip to Powell's Books in Oregon, the Cedar Hills location. I wanted to pick up a new copies of a few science fiction books that I had read for an SF class in college. I went to the SF section and found a bookcase dedicated to the Hugo Awards. I was amazed that quite a few of the books from that class were Hugo winners. I chose Canticle for Leibowitz by Walter M. Miller Jr and Lord of Light by Roger Zelazny. I loved these books the first time around, and had been wanting to reread them for years. Browsing the other winners, I was amazed to see so many titles I recognized. One surprise was Jonathan Strange & Mr. Norrell by Susanna Clark. I had often seen this massive tome and never realized it fell under this category. Feeling adventurous, took a copy. Feeling like I really needed to live on the edge, I decided I needed one more. Jacob, my partner, recommended

A Case of Conscience

, by James Blish. So with (only) four books in hand, and a little 5-1/2 by 6 inch quick reference sheet of all the Hugo winners for best novel tucked in my shirt pocket, I checked out.

I read the Miller and Zelazny books quickly. I fell in love with them again. Next I read the Blish. I thought it had some problems, but overall, I loved it too. Finally I dove into Jonathan Strange. It took me about six weeks to get through it, but I loved it. Every second of reading was a delight.

About this time, I had a recurrence of several health issues. Soon I was on disability. When I wasn't dozing from the myriad of medications, I read. Jacob had finished an omnibus edition of the Anne McCaffrey's

DragonRiders of Pern

trilogy and gave it to me. I read these books in college, but was open to reading them again. Next thing I knew, I read

DragonsDawn

and

All The Weyrs of Pern

.

Sometime while travelling in Pern, I had become infatuated with the Hugo winner quick reference sheet. I had already read about ten books on the list. At one point, I found all the winners and nominees online, copied them into a spreadsheet, and marked all the ones I read, the approximate year I read them, and assigned a rating based on 4 stars.

The following morning, I woke up with the insatiable desire to read all the winners.

Fortunately for my bank account and my already stuffed bookcases, I renewed my library card at the Beaverton City library, and began reading. Forty-nine books and reviews later, I've decided to take Jacob's advice and begin a blog. By the way, he also suggested I review them fairly early on, but I didn't begin writing reviews until last April. And now it's September and I'm finally getting the blog off the ground.

Despite being in IT for most of my life, this is my first blog. It may take me a while to get it looking how I want it, so bear with what I expect to be constant tweaking of the format. Until I start getting my reviews posted, links to books I've read will send you to the

Worlds Without End

site. It's a great place to keep track of books you've read, post reviews, and find new books to put on your reading list.

I'd like to give acknowledgement to

The Hugo Endurance Project

. I discovered Jeremy's blog last March, and it has been a great resource to get a preview and general feel for books before beginning reading them. I often had very different opinions of the books after reading them, but I didn't care. The blog gave me inspiration to keep pursuing my own quest.

I hope this blog will not just be about posting reviews. And I'm not going to post all 49 reviews at once. (Whew!) I plan to use this blog as a way to express myself by writing: maybe stories, maybe an occassional philosophical rant, maybe reviews of non-fiction and non-genre fiction. We'll see as time goes on. And maybe I'll get a few people who might be interested in what I'm reading and what I have to say.
Welcome!!