Read 2012, reviewed 4/22/2013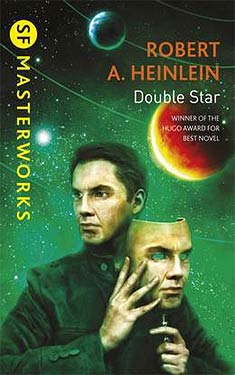 This was the first Heinlein I'd read since Starship Troopers in college. I loved it. I was excited that I loved it. It redeemed Heinlein for me and gave me hope that he wasn't always trying to expound on his belief systems in his novels.
Writing this review after reading the rest of his Hugo winning novels, I realized that his larger works simply seem to be novelizations of his very strong philosophies. "Double Star" is different. It has an accessible story, and he sticks to it. He doesn't go on for pages and pages building arguments. The story is a common one; if not already trite at publishing time, it has become trite in the succeeding years. The difference is that it is written really well, and in an SF context. A powerful leader becomes ill and his cronies find someone to impersonate him. Here, the powerful leader is an interplanetary politician with lots of enemies.
The character arc is great. Of course, the impersonator, Lawrence Smith, first resents being asked to do this, then is fearful for his life, and inevitably accepts his role. The joy of this book is Smith's journey through the arc.
When I described to my partner how much I loved this book, he recommended I read a collection of Heinlein's short stories. After I finish this Hugo challenge, I want to read them. I'm guessing that his short stories are more like Double Star than his later novels.
I gave this book 4 stars. Since consciously deciding to read all the Hugos, this was the first SF novel which felt like what the winners were supposed to be. And it is my favorite type of SF: character studies in a futuristic or fantastical environment. The details of the science are not as important as the characters, their relationships with each other, and their interaction with the SF/fantasy context.