Completed 2/2/2019, Reviewed 2/2/2019
This beautifully written book started life as a novella, winning the World Fantasy Award for that category.

Expanded to novel length, it was nominated for several awards, including the Gaylactic Spectrum Award.

It is an alternate history story where Britain loses the First World War and descends into fascism.

Its prose is stunning, though at times, it felt a little too British, with some words and references I didn't get.

Nonetheless, it was a joy to read despite its depressing content.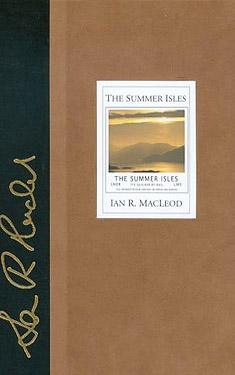 Geoffrey Brook (aka Griffin Brooke) is an instructor at Oxford in 1940 who finds out he has cancer.

He's a closeted gay man, having lost the love of his life to the war.

His only contact is the occasional tryst with a married man in an abandoned shed.

Brook's life is unremarkable.

He has a steady job, and has remained cautious in his relatively few sexual encounters.

One day Brook finds that the man and his family have been made to disappear.

Thinking it was because of his homosexuality, he fears for his own life.

It turns out it's because the man was married to a Jewish woman.

Relieved but still concerned, he goes on a quest to find where they've been ensconced.

On the journey, he recalls his relationship with a young man named Francis twenty-five years earlier.
What makes Brook special, though, is that the dictator, John Arthur, claims that Brook was his tutor as a child.

Brook doesn't remember him, but goes along with the story anyway.

He believes that that's what got him his position at Oxford, not being university trained or a proper professor.

The rest of the book follows Brook as he returns from his failed quest to find his tryst partner and suddenly finding his path crossing with John Arthur's.
The book never is never really fast-paced.

It's slow and methodical doing a wonderful job of exploring Brook's sexuality subtly while he remembers his short time with Francis.

At the same time, it explains the rise of fascism, nationalism, and sanctioned bigotry over roughly the same period in a very multi-dimensional light.

It shows how people in a situation do not recognize what's going on around them until it hits close to home, like when you are the target of government condoned prejudice or when people begin to disappear.

The book is never preachy.

In fact, it was very subtle, just as the changes in society were subtle.

The book takes an exciting turn when Brook gets invited to John Arthur's fiftieth birthday celebration, which also coincides with the national holiday of Trafalgar Day.

Still the pacing remains the same, but I definitely read it more quickly.
I felt that the book is very soft science fiction in that it is an alternate history.

These types of stories almost can fall into the category of literature, especially this book with its wonderful construction and prose.

It reminded me of lonely, closeted gay man classics, particularly "Death in Venice".

MacLeod, a straight man, really does a good job of describing the kind of sad life that many men were forced to live in the early twentieth century.
I give the book four stars out of five.

It creates a vibrant portrait of a Britain that could have been, or perhaps even what life for an average person was like in Germany during the early rise of Hitler.

It also makes the life of an unremarkable person seem interesting and noteworthy.