Completed 2/9/2019, Reviewed 2/9/2019
This is a wonderful conclusion to Binti and Binti: Home.

At just over two hundred pages, reads a lot more smoothly and feels more complete.

However, I felt this book showed Binti regressing rather than growing.

Granted, some pretty tragic things happen to her, but the way her emotions go wild doesn't feel like she grew in the previous installments.

In general, I really liked it, but it didn't have the same power as the first two.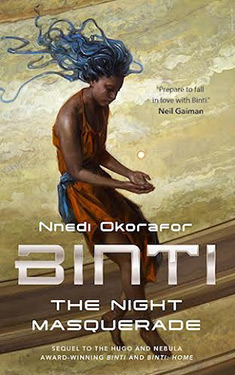 The book begins with Binti still on Earth, having just been coming into the experience of finding out that she is not just part Himba and part Meduse, but she is also part Enyi Zinariya, the heritage of her father.

The Enyi Zinariya are a desert people looked down upon by the Himba for being savages, but in reality, they are a people who have been in contact with the Zinariya aliens and have received a gift of telepathy.

Meanwhile, the Khoush have attacked the Himba, looking for her and her alien companion Okwu, breaking the treaty that Binti established at Oomza Uni.

She returns home to find her family and many of her neighbors dead.

Being a master harmonizer, she tries to convince the Himba elders to work with her to end the violence of the Khoush and the Okwu.

They refuse, leaving it to the heartbroken Binti to broker the peace on her own.

Her only resources are Okwu and Mwinyi, an Enyi Zinariya who is a master harmonizer and can talk to plants and animals.
My problem with the book was that Binti does a little growing until the end.

Her biggest achievement is trying to broker a new truce between the Khoush and the Meduse.

But all around that episode, Binti is still rageful and at the same time whiny.

It doesn't feel like she has grown from all her experiences of self-discovery, rather she fights it.

She is only seventeen, but I expected some maturity development by this time.

One bright spot in her life is Mwinyi, the Enyi Zinariya boy who acts as her guide during and after her time with those people.

There's a spark of a love interest there and that plus his power of communicating with non-human things grounds her somewhat.
My only other real complaint is that Okorafor does a lot of retelling during the story.

It feels like there's a lot of repetition.

It's not simply recapping, but multiple rehashings of the past traumatic events.

It got kind of tedious and I found myself skimming through those sections.
Overall, though, I liked the book.

I give it three stars out of five.

I give the series four stars out of five because as a whole, I found it very exciting, enjoyable, and creative.

It starts out like gangbusters and keeps the pace through most of the trilogy.

The only slow down is about the middle third of the last book.

It does pick up for an exciting, though rather expected ending.

It's still very worth the read.

I am definitely an Okorafor fan after this.