Completed 3/30/2015, Reviewed 3/31/2015
Reading this book is a cheat for me. It is comprised of several of Tolkien's works that appear in "The Tolkien Reader", plus two more. I read these two stories immediately after finishing "Reader", so of course, I'm also giving this 5 stars out of 5. The two additional pieces are simply wondrous. In addition, it's illustrated by Alan Lee, the artist and genius behind the production design of the LOTR films, adding a glorious ethereal quality to the book. In this review, I only review the pieces that were not included in "Reader".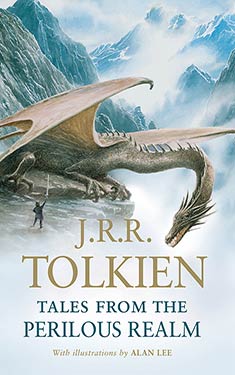 The first story is "Roverandum", a children's tale about a dog transformed by a wizard into a toy, owned as a toy by a young boy who loses him, then is transformed back into a dog and has adventures on the moon and under the sea. Tolkien created the story for his own son who lost such a toy dog while at the beach. He used the story to console his son over the lost toy. As a children's tale, it is simply marvelous. While reading it silently, I could hear the intonation of a British narrator, much like Sebastian Cabot in the Winnie the Pooh films. I began this book late one night and actually put myself to sleep with the narrator's melodic voice in my head. Of course, it is a silly story, but it signifies Tolkien's fondness for his children as well as his art of storytelling.
"Smith of Wootten Major" is a very different story. It takes place in the realm of Faerie, the "perilous realm". In the town of Wootten Major, there is a celebration for children every twenty-four years, featuring an enormous cake baked by the town's baker, filled with coins and little presents. One particular celebration year, the baker (who was not the best bakers the town ever had) inadvertently adds a small faerie star to the cake. It's eaten by a boy, the son of the Smith. As he grows up, becoming a Smith himself, he discovers that he has the ability to travel into the realm of the faeries. This story exemplifies Tolkien's take on the fairy story, as described in his essay "On Fairy Stories", featured as an appendix in this book. The realm of Faerie isn't a pastel colored world of little Tinkerbells. It's a whole other world sitting at the boundaries of our reality, and it's ruled by the Faerie King and Queen, who can say who is allowed to enter the realm and who cannot. Because of that star from the cake, Smith is one upon whom this grace is bestowed. "Smith" transports you to this magical realm, conveying its reality through mood as well as by the plot. Like Smith's ultimate fate, when you have to leave this realm, you are left sadder, though extremely satisfied and moved at the opportunity allowed you.
So which book do you read, this or "Tolkien Reader"? My answer is both. This book comes in hardcover, so the font is larger and easier to read, and the art is glorious. "Reader" features other art, more primitive and whimsical and has the more traditional smaller mass-market paperback fonts. For a lover of Tolkien, reading all the works found in these two books is a simply a must.