Completed 10/11/2014, Reviewed 10/13/2014
I was able to get my hands on an advanced reading copy (AARC) of "The Dark Defiles" by Richard K. Morgan from my SF guy at Powell's books. So this review was written a mere 6 days after its publication date. I felt honored to get to read it ahead of time, and felt quite fulfilled. It's a worthy conclusion to the "Land Fit for Heroes" trilogy. But if I could change one thing about it, I'd cut about a hundred pages.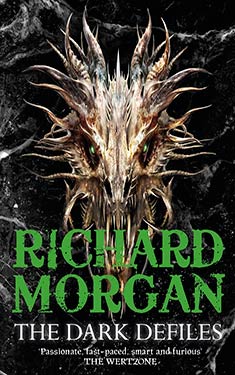 "Defiles" continues the saga of Ringil Eskiath, the gay, outcast war-hero and his two sidekicks, Archeth the black, Lesbian, half-human half-immortal warrior daughter of an alien race of engineers, and Egar the Dragonbane, the straight, berserker barbarian. The story begins as they realize their journey to find the body of an ancient evil king nearing resurrection seems to be a farce. But they soon get separated and end up on two different paths toward what seems like the destruction of the world.
Richard K. Morgan has become one of my favorite writers this year. I read the first two books in the series, as well as his first book, "Altered Carbon", a science fiction tale. He writes dark, cynical, intense prose. His books are incredibly readable. My main complaint about "Dark" is the length. Nonetheless, I couldn't wait to pick it up, and I never wanted to put it down. He has perhaps the most readable action scenes I've ever read. His characters often wallow in moroseness and self-doubt, but there is always a touch of humor and downright sardonicism. And even when all seems to be lost, the characters always come up with a darkly humorous thought or statement to add an ironic touch to the scene.
The book only suffers on the one point, the length. It felt like the publisher decided that Morgan was now a big enough draw to not require an editor. As much as I enjoyed reading the book, I felt that there were scenes and descriptions which could have been edited out to make the story go a little faster. While there are many books that make me wish I could stay in the universe longer, this one made me feel like I had really come to a stopping point with its conclusion. I got to the end and I was satisfied.
Like the first two books, "Defiles" is full of sex and gore. While quite in your face, it always seems appropriate to the story. The universe Morgan creates is vulgar, and not just in the sense of not being polite, but also in the sense of being down with the common people. The story is high fantasy, but is grounded in the outcast.
I think what I enjoyed the most about this book was the interaction with the supernatural. While there are gods and demons in the previous books, they are more in our characters' faces than before. They are all basically tricksters, interfering with humans as a game to achieve their ends. Since they appear more often, they are better realized than in the first books. Whenever one appeared, I found myself excited, quickening my reading pace.
I give this book four out of five stars. It's far better than "The Cold Commands", but it didn't have the same emotional punch the first book, "The Steel Remains", gave me. But Morgan has opened me to a new world of fantasy and science fiction I haven't really enjoyed much before. I'm glad I discovered him and look forward to reading the rest of his work over the next few years.