Jody Lynn Nye & Dean Wesley Smith, eds.
Completed 5/13/2023, Reviewed 5/14/2023
4 stars
I received a copy of this book before publication date from an illustrator friend whose first published art piece appears in this book. Chris Binns signed it (page 13) for me. I was so honored. His piece is awesome as are all the art pieces in this book. Little did I realize that it was also Illustrators of the Future as well. As for the anthology itself, it's really good. I like or love almost all the pieces in it. Interestingly, I didn't care for the three pieces by established authors. But the stories by the "future" writers are full of great imagination with twists on existing tropes and wonderful prose. I never quite know how to write a review of a collection or anthology, so I'll mention the stories that really stood out for me plus a few others.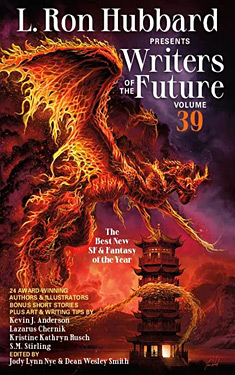 "The Fall of Crodendra M." by T.J. Knight tore at my heartstrings. In this futuristic world, networks televise galactic events, especially cataclysmic ones. Hank Enos, a network tuner, finds a planet that will be demolished by an asteroid. This will score great ratings. But when Hank zooms in on the planet, he sees a local human-like boy looking back at him. Filled with empathy, he's determined to somehow alert the boy of his coming doom. This story is fast paced with intrigue from competing networks. Most of all, it calls us to examine our own morality and mortality when dealing with the forces of the universe.
Another morality tale is "Timelines and Bloodlines" by L.H. Davis. A time travel team is sent to the past to kill an 11th century Earl in England whose distant ancestor threatens London with a nuclear weapon. If the team can kill the Earl, they'll stop the terrorist. But what other effects will this assassination have? This story was full of mind-bending time travel twists and paradoxes. It may have been done before, but I thought it was well written and complex, but didn't leave me scratching my head.
In another time travel piece, "A Trickle in History" by Elaine Micdoh tackles the question of traveling back in time to stop Hitler. It doesn't mess with your brain as much as "Timelines" but it does offer an interesting alternative to the more common responses to this question.
I liked "White Elephant" by David K. Henrickson because it plays on the trope of an alien invasion, but in this case, the aliens seem peaceful. The question is, can we handle peaceful contact? This story was reminiscent of "Rendezvous with Rama" by Arthur C. Clarke in that we get a detailed view of alien technology.
"Piracy for Beginners" by J. R. Johnson was a fun romp. This action-packed story has a former war hero who pilots a shuttle between Earth and the Moon that is attacked by pirates who aren't quite so smart. The story ended in such a way that you can see this becoming a series of popular novels.
"Death and the Taxman" by David Hankins was a lot of fun. A tax auditor uses an ancient Sumarian body exchange spell to swap with the Grim Reaper. Chaos ensues and the Grim Reaper must get his body back before he himself is reaped and judged for his own sins.
The last story I'll note is "The Withering Sky" by Arthur H. Manner. It's a dark tale of a group of people taken to a non-reflective spacecraft in Neptune's orbit. They are told to wait for the research team to come after them. But no one comes and the crew finds themselves struggling to keep their sanity and their lives. The tension in this story is intense and the ending is surprising. It's a mix of science fiction and horror and I think it would make a terrific film.
Even though I don't mention the other stories by newly discovered authors, I did enjoy them. I'd recommend reading this anthology yourself to develop your own opinions. And don't let the full title fool you. Even though it is "L. Ron Hubbard Presents", it is not a platform for Scientology. It's an annual contest that has given rise to some well-known authors writing today. I give this anthology four stars out of five. It has many terrific moments and only a few that are, well, not terrific. I really enjoyed the artwork. It's of the type that we just don't see much in modern book covers these days. I'd like to thank Chris for giving me this signed copy. I was glad to read it and expand my horizons to authors I hope to see produce some novels in the futures and some illustrators who will find success in the various visual arts like book covers, graphic novels, and video games.