Robert R McCammon
Completed 4/4/2023, Reviewed 4/4/2023
5 stars
I was completely blown over by this book. I thought it would be another pseudo-autobiographical slog about being a young aspiring writer. Instead, I found it one of the best of the pseudo-autobiographical novels I've ever read. And it had some magical realism to boot. The story takes place in 1964 rural Alabama and is written in a vignette-type form. The characters are likeable and relatable, even for a city boy like me. And I was surprised and drawn into the main plots running through the vignettes. This book won the 1992 World Fantasy Award and the 1991 Stoker Award for horror, even though the supernatural elements are mostly fantasy.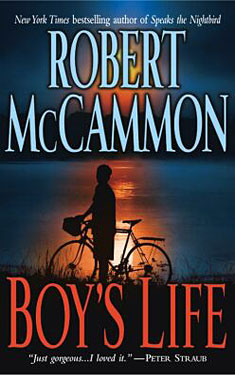 Cory is eleven-years-old at the beginning of the 1964. He and his three best friends ride bikes, read comic books, go to the local movie theater, and play little league together in the little town of Zephyr. That March, life changes for Cory when he accompanies his dad on his milkman route and sees a car drive into the local super deep lake. Cory's father goes after it, hoping to save the driver, and finds a dead naked man handcuffed to the steering wheel, strangled with a wire, and beaten to a pulp. When they report it to the sheriff, they find out that no one is reported missing. It appears to be a cold case and life goes on. However, Cory slowly gets small clues over the rest of year of who the killer might be. Throughout the rest of the year, life goes on, but Cory begins to have magical experiences, like the bike with the all-knowing eye, encounters with the river monster, and flying with his friends.
The book began as a slow read, as I let me expectations get the best of me. Then the scene with the body in the car happened. I'm usually not a murder mystery guy, but this really grabbed me. Then when I saw that it was a setup for some supernatural happenings, I found I couldn't put it down. The whole coming of age trope took on a new dimension this way, making it not just a rehash of books like Stephen King's "The Body" (aka "Stand By Me"). Taking place in 1964, there was also a strong Civil Rights theme running through, with Cory experiencing the racism and violence with this little town and it's mostly black suburb.
I really liked Cory, who is the narrator, even though he grows up to be a famous author, like McCammon. He's believable, even if you struggle a bit with the supernatural elements. He's genuine and sincere. Not everything goes his way throughout this book. If it did, it would be boring and you'd have to say he's an unreliable narrator. But I really came to believe his experiences as authentic and valid. The other characters in the book were colorful and interesting. Even the bad people were drawn well. Of note, I liked The Lady, a 106-year-old black woman from the neighboring hamlet who had a touch of the magical in her as well. Cory's father was well developed, as well as Cory's small group of friends.
I give this book five stars out of five because I literally could not put it down until I was passing out. I read this 600-pager in 3 days. I'm glad I read it while home from work with this shoulder surgery recovery, because it would have taken longer to read. Getting it in three days though kept it sharp and immediate. The prose is excellent and the dialogue realistic. Having read this book, I'm interested in what some of McCammon's other horror fiction is like.