Nicola Griffith and Stephen Pagel, eds.
Completed 4/9/2020, Reviewed 4/9/2020
This is the first of three volumes of short stories with gay and lesbian characters and or themes.

The other two are for Science Fiction and for Horror.

I read Bending the Landscape: Horror several years ago and really liked it.

This one, however, was tremendous.

Not all the stories are perfect.

In fact, a couple are duds.

But overall, this anthology hits the mark almost every time.

Some stories are traditional European-like fantasies with magic and wizards.

Others are urban fantasies, some are ghost stories, and the rest are non-traditional in some way or another.

I can't put it any better than the quote on the back of the book: BTL:F "demonstrates that gender and orientation can be used to create spectacularly imaginative plots and rich works of fantasy".

This book won a World Fantasy Award for Best Anthology and a Lambda Literary Award for Sci Fi/Fantasy/Horror, both for 1998.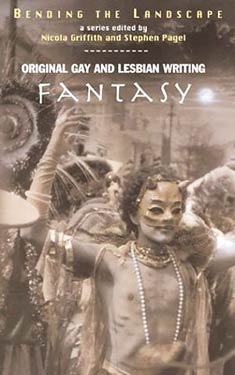 There are twenty-two stories in this anthology, nineteen of which I liked, loved, or went ecstatic over.

Here's just a few that were notable:
Frost Painting – an art critic goes to North Dakota to find her artist lover who seems to have joined an artists' community, or perhaps a cult.

When she finds her, the artist claims that aliens or something have come down and are directing them to paint landscapes.

Not landscapes on canvas, mind you, but painting on the landscapes, creating amazing, gargantuan images in nature.

Of course, the critic doesn't really buy into this.
Gary, In the Shadows – this one is a real gut-wrencher.

Sean is a college student who meets and falls in love with a young hustler named Gary. Gary falls in love with Sean, but continues to hustle.

After the two of them stop a gay bashing incident, Gary disappears.

Sean continues to feel his presence for years after.
Water Snakes – two tween cousins staying at grandma's for the summer wonder about the two old women living together across the street.

Jeff thinks they're witches.

Peggy doesn't know what to think.

Jeff becomes obsessed with them and one night convinces Peggy to sneak over to their house and spy on them.

What they see terrifies Jeff, but Peggy gets it.
The Sound of Angels – two women who have been partners for many years have a device that lets them experience each other's feelings.

One is dying.

She sends her partner on a ferry to Orcas Island to intercept a pod of Orcas which whom she has had a connection since she was young.

The dying woman can once again commune with the Orcas, the other feels the pain of her lover dying.
Beside the Well – Lo Yi is the second wife to an abusive slob with an equally abusive mother.

The mother pays homage to the dead First Wife seemingly in honor of her.

Lo Yi resents this, but then communes with the spirit and finds out the truth of her death.
The Home Town Boy – a successful gay sociology professor is called back to his home town by the sheriff who was his primary bully growing up.

Of course, the town itself was no place to grow up gay.

Now, it seems that the townsfolk are eating at a diner and becoming immortal.

The diner was owned by a Native American woman who was on the short end of a lot of discrimination herself.

Now she's dead, and the sheriff enlists the professor to get to the bottom of this phenomenon.
I give this anthology five stars out of five, even though a few stories were only two or three stars.

I give it a five because overall, the stories tugged at my heartstrings or got me in the gut at some level.

It isn't often I have such a strong emotional response to a collection or anthology, but this book was something special.

The prose was consistently top-notch.

Interestingly enough, the traditional fantasy stories seemed to be the weakest ones.
Now I'm waiting anxiously for the science fiction volume to arrive.