Completed 10/27/2019, Reviewed 10/27/2019
This trilogy far exceeded my expectations.

The third and final book is every bit as deep and exciting as the first two.

Picking up this third one was like hanging out with an old friend.

The prose continues to be as warm as in the first two.

Perhaps it was because I read all three in order and without interruption that I felt like I really knew the main character Vanyel.

I was cheering for his new relationship while at the same time, completely empathizing with his hesitancy.

At first I thought that more about him couldn't be revealed, but he continued to grow, albeit slowly, in his new relationship, with his family, and with his power.

This book won the Lambda Literary Award for Science Fiction/Fantasy in 1991.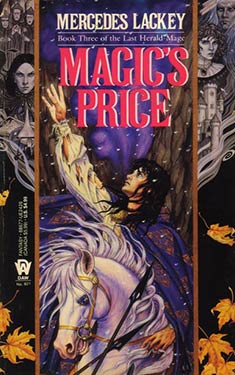 Like the first two books, this one was half personal life, half professional.

It starts out with him slowly falling for a new young Bard named Stefen.

Stefen is in love with Vanyel, and it's not just hero worship.

At this point in the book, Vanyel is larger than life, being the most powerful Herald-Mage in the land.

So Vanyel tries to discount Stefen's affections.

But Vanyel falls in love with Stefen as well, and it takes a visit to his family to realize that.

Yes, there is a third visit to Vanyel's family, and his relationship with his father, Withen, turns in another new direction, as Withen comes to terms with his son's orientation and career choices.

While at home, there is an assassination attempt on Vanyel's mother's life, also endangering Stefen.

This forebodes a plot not only to destroy Vanyel, but also the whole country.

So Vanyel must leave once again to get to the bottom of this new sinister conspiracy.
A lot of the first half of the book is about Stefen.

At first I didn't like him, but he grew on me as he also grew on Vanyel.

At first, Vanyel brushes off Stefen's advances, but it becomes a fun game as Stefen tries to find ways to get Vanyel into bed.

It also seems like Stefen is trying to add another notch on his bedpost at first, but the desire quickly becomes love and Stefen lifebonds with Vanyel.

Vanyel still hold a candle for his first and only real love, so the game frustrates Stefen and all the other major characters.

Vanyel does grow though, and he eventually comes around to the inevitability of a new relationship.
The book becomes very sad as a major character as well as other minor characters are murdered.

Vanyel has to deal with his emotions, trying to control his powers, using them for good rather than for the desire to seek vengeance.

This is a recurring theme in the books: with great power comes great responsibility.

Vanyel gets a huge dose of this when he is captured and abused by the enemy forces.

He strikes out at his captors but then is revulsed by his uncontrolled emotional revenge.

So when he finally confronts the evil Master Dark in the end, he tries to use his powers in the least emotional way.
As a reader, you really get the sense that Lackey wrote these books in order, one after the other.

The tone and style are the same throughout the works.

It is an exceedingly pleasant read throughout all three.

I can see why there are so many fans of the author out there.

She has a wonderful voice, has interesting plots, and develops great characters who actually grow through the action.

While each book is not standalone, each wraps up nicely.

My only complaint with this volume is that it ends rather abruptly, but I felt it was better this way, rather than dragging out all the emotions of the bitter-sweet ending.
I give this book a resounding five stars out of five.

The whole series was phenomenal.

I don't think I've enjoyed a series as much in a long time.

I was truly enrapt in it from start to finish.

I didn't get bored with it, thoroughly enjoying it every time I picked it up.

In fact, I forced myself to stay up to read the last ten pages, as I was nodding off in my usual late night fashion.

I had to know how it ended, and couldn't wait until the morning for that last little bit.

I highly recommend this series and will now put Lackey down as one of my favorite authors.