Completed 4/15/2017, reviewed 4/16/2017
I really wanted to like this book, and I began really liking it. But about halfway through, it dissolved into an uneven plot that got less and less believable and interesting. It's been nominated for several awards as of this writing and I'm not sure it's deserving. There are a lot of great reviews for this book and a fair number of haters. I'm just mixed.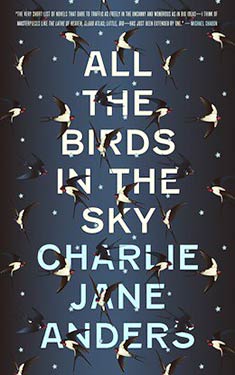 The story begins with the young Patricia and Laurence. Patricia is a witch, Laurence is a brilliant techie. Both have families that don't understand them. Both are outcasts at school. They meet up and become friends, until Laurence realizes that Patricia really does have powers, abandoning her. They meet again in San Francisco as adults, both trying to do something for the world that is collapsing around them, each using their own talents.
I really liked the two main characters, particularly as children. It is easy to like outcasts, feeling sorry for them, identifying with them. Right from the start, you cheer for them even though you know that everything they do will be interpreted wrong. And as the plot becomes more convoluted, you still cheer for them, hoping that they will find each other and fall in love.
It's roughly the second half of the book that is its downfall. Patricia has grown up to be a gifted healer. Laurence is working on a wormhole generator. The world is being devastated by superstorms and earthquakes. The plot gets convoluted with story lines like destroying the generator, giant robots, the "unraveling". It actually got hard to follow, even though the book is really an easy read. Maybe I wasn't willingly suspending enough disbelief, but it just seemed like subplots were thrown in to create as much difficulty as possible for Patricia and Laurence to get together and be in love, rather than for what should be the plot of the book, saving the earth and the falling in love being a natural outcome.
I also didn't like the grammar. There were a lot of sentence fragments. That might have been an editorial choice, or maybe not. I found it really distracting. I find sentence fragments to be useful when you want to slow the reader down to make a point. I found as the book went on, I noticed them more and more and felt like they were stylistically pretentious rather than organic to the overall writing style.
There are a lot of good things about the book, mostly in the first half. And the very end pulls everything together nicely. It's just everything else that I found difficult. I'm giving the book three stars out of five on the strength of the first half. It just could have been so much better.