Completed 1/13/2017, reviewed 1/13/2017
Girl Meets Boy is part of a series of books that are retellings of famous myths. There are books in this collection by A.S. Byatt and Margaret Atwood, among others. This book is a riff on the myth of Iphis and Ianthe from Ovid's Metamorphoses. While not exactly a retelling, it plays on the story of a girl raised as a boy until her wedding day. In the story, we get girl meets boy, girl meets girl, and girls take on corporate greed. It's interesting, interestingly written, and very satisfying.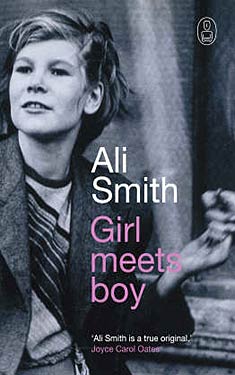 The myth of Iphis is a little more complicated than my one liner in the opening paragraph. It's the story of a poor couple. The woman gets pregnant. As she approaches delivery time, her husband tells her that if the baby is a boy, that would be great. If it's a girl, he'll have to kill her because they can't afford a girl. The woman prays to Isis. The goddess's response is to bear the child and if it's a girl, raise it as a boy. The woman does, naming the girl Iphis which is both a boy and a girl's name. All is well for the longest time. Iphis develops a friendship with a beautiful little girl named Ianthe. They fall in love. Then their fathers arrange a marriage. At the news, Iphis panics because she can't truly meet Ianthe's needs as a woman. She prays to Isis who hears her pleas and changes her into a man in time for the marriage to be successful. This is the metamorphosis of this story in Ovid's collection.
Girl Meets Boy is the story of two sisters.
Both work for Pure, a company the sells overpriced bottled water.
Anthea is a dreamer, she hates her corporate job.
Imogen, the more pragmatic sister, loves her job and helps develop the name for the product.
Their company is threatened by a person who goes by the name of Iphis, who writes anti-corporate graffiti slurs that are the bane of Pure.
Anthea falls for Iphis and Imogen is threatened by her.
The rest of the book is about how the sisters resolve their issues around Iphis and Pure.
The book is written in an avant-garde sort of style, without quotations, with a lot of inner dialogue, with the narrative bouncing between the sisters. It's a little disconcerting at first, but easy to adapt to. The style set a tone for me that the story was a little different itself, where gender and gender identity may be fluid. Smith does a wonderful job turning stereotypical gender roles on their heads. She also does an incredible job describing the homophobia that goes on in Imogen's head while she goes out for a jog.
I give this book four out of five stars. The writing is really terrific and the character development is masterful for such a short book. It's not exactly fantasy, but it is an interpolation of a fantasy. It was nominated for a Tiptree award and ended up on many best of lists for gender studies and LGBTQ content. While it doesn't make me want to run out and read the other myth books in the series by this publisher, it does make me want to read more by the author.