Completed 6/24/2016, reviewed 6/30/2016
This is another book I listened to on CD. It was reviewed by io9 as a story about a sexually-transmitted city. And that's about the gist of it. It's a very ethereal book about a city on the edge of reality that can only be visited by having sex with someone who has a tattoo of a part of the map of the city on their body. It follows four strangers who all have an encounter that takes them to the city of Palimpsest and their quests to return. Despite the interesting premise, I didn't enjoy it.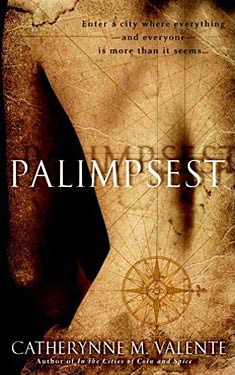 My biggest problem with the book was the prose. It's beautiful, poetic, and completely distracting. I think there is a fine line between great and gratuitous prose, and this was the latter. It's the type of prose that's great for a short story, but simply too much for a full length novel. I found myself bored listening to it, and constantly losing my place. I had to read through lots of other people's reviews to try to get parts of the plot I missed. It made me wonder if I would have appreciated it more if I read it instead.
Another problem I found with the book was the plot. There isn't much of one. The book is all about the premise. It's basically about four people who are constantly trying to have sex to get back to Palimpsest and figuring out a way to stay permanently. I guess you would call this a character study. I have to say they were somewhat interesting people, all damaged in some way, all looking for something better. But there just didn't feel like there was any movement to the book.
The best part of the book was reader. She did an excellent job with the accents of the characters. Besides an American, there were Japanese, Russian, and Italian characters. Her inflection was also quite good. It was the only thing that made the prose tolerable.
I give the book two stars out of five. I toyed with giving it three stars for the effort, but I just didn't enjoy the book. Again, I wonder if I would have liked it more if I had read it instead. It's too bad there was little plot and the prose was so distracting because I really liked the premise.