Completed 5/3/2015, Reviewed 5/7/2015
"Boy, Snow, Bird" is a modern deconstruction of the Snow White and evil stepmother fairy tale. In the '50s, Boy is a young woman who escapes from an abusive father to create a new life in Massachusetts. Although not very adept at or desirous of having a relationship, she falls in love with a local widower who has a daughter, Snow. They marry and have a happy family, although Boy's relationship with Snow is both great and strange. They have a daughter of their own, Bird, but the child is very dark-skinned. Her husband and his family have been keeping a secret. They are light-skinned African-Americans passing as white. In a strange twist, Boy sends Snow to live with her sister-in-law and raises Bird, protecting the child from the prejudice of her in-laws amidst the civil rights era.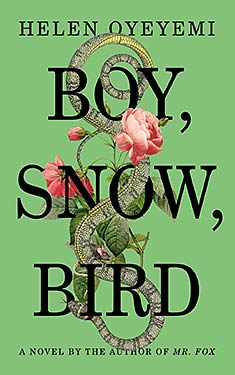 I fell in love with Oyeyemi last year when I saw her at Powell's on her tour for this book. She's a charming person. She's was born in Nigeria, but raised in England. I was just riveted to her as she read from the book. I could listen to her all day. Her books aren't necessarily fantasy. She takes myths and genres and juggles their components in wild ways. This book is probably the most like a true deconstruction. There's no magic, but there are mirrors. They show you strange things, including the fact that you might just be "invisible". And is Boy an evil stepmother? It's hard to tell. But I think that's the point. The morality is really quite ambiguous throughout the book, just as it often is in fairy tales. We're used to happy endings in animated retellings, but many fairy tales and legends are tragic. Nobody is ever really completely good or completely evil. And their decisions and actions can be quite questionable.
The best part of any Oyeyemi novel is the prose. Sometimes, her word and phrase choices leave me breathless. Knowing the difficulty I have trying to not repeat myself and overuse superlatives, she astounds me with the deliciousness of the language. Once I pick up one of her books, it's tough to put it down because I want to consume it. I did not have the emotional response to this book for which I usually award five stars, but it is pure literary treasure.
I really liked the choice she made in telling different parts of the story from two perspectives, Boy's, Bird's, and then back to Boy's. The voices are very different. Boy's leaves you nervous and suspicious, while Bird's is softer, though her juvenile insight is both amusing and unsettling. The juxtaposition of the two provided a great contrast in their perspective of their world and relationships.
I only give this book four out of five stars for the reason I gave above, lack of an emotional response. I'm concerned that it's because at the reading at Powell's, a woman in the audience cried as she described to Oyeyemi how it so profoundly moved her. I think this may have set up my own expectation that this book should move me to tears as well. That probably tainted my perspective. Still, I fully appreciated the magic of the story, and its important message about self-loathing, acceptance, and reconciliation.