Completed 4/17/2014, Reviewed 4/22/2014
I read Theodore Sturgeon's "More Than Human" in college. I was at a supermarket browsing the paperbacks and that one jumped out at me. I hadn't heard of him, but the cover touted that it was a classic by one of the masters of SF. I had two bucks burning a hole in my pocket (those were the days!), so I bought it. It blew me over. The concept, the prose, I thought it was genius. A year later, I was taking a one-time only Fantasy Lit class and our professor scored Sturgeon as a guest lecturer.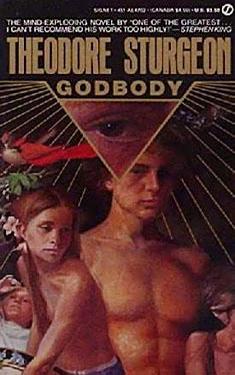 I don't remember much about his talk. It was over 30 years ago. I remember he oscillated between kindly grandfather and dirty old man. He took a lot of questions. One person asked him extreme details about his time and place of birth, which he interrupted by describing his complete astrological profile. He frustrated the person but made the class roar. At the end, he read one of his short stories. That I remember. It was about a toilet that pleasured the sitter and the prudish woman who out of necessity was forced to use it. Again, the class roared. I did too, but I couldn't help wondering how this could be the same person who wrote "More Than Human". So when I found I could use one of his novels for the Second Best challenge, I decided it was about time to pick him up again.
"Godbody" was nominated for the Locus Fantasy Award in 1987. It was published after his death in 1985. It's about a group of people with varying degrees of sexual and relationship problems, ranging from a Christian minister to a sexual predator. They encounter a red-haired, naked messiah named Godbody who tells them that love is the answer, and that joyous, uninhibited sexual expression is the path. They are transformed. As you'd expect in any messianic deconstruction, it's not going to end well. There's a notorious gossip who wants to put an end to the movement before it barely can get started.
The most amazing aspect of this book is the writing. Each chapter is an account of what's happening told in the voice of one of the main characters. I was truly astounded that Sturgeon could write in so many completely distinct voices. In the little research I did on this book, it was said that after reading the book, you can be quoted a passage, and within a few sentences, you'd know which character was speaking. That was exactly my experience. My skin crawled while I was in the mind of the rapist. My heart broke while I was reading the account from the journalist's assistant. I had gotten an intimate look into the lives of these people.
The story itself felt a little hokey. A messiah comes to liberate us sexually and thus save the world. My thought as I began this book was that he must have written this around the same time as the happy potty story. It seemed like it would have had a bigger impact if it was published in the 60s, alongside Heinlein's free love mediations. Of course, it would probably have had more notoriety back then as a banned book. Or perhaps, that's why it was unpublished at the time of his death. The sex is explicit, and the message is controversial. But after a while, you realize that Sturgeon is making the larger point about how Christianity has been corrupted through the ages. The message of Jesus has been perverted nearly since the beginning by the powers that be. And the most fundamental of human functions, sex, has become a torturous, dirty thing, instead of the basic, joyful, celebratory act it was created to be.
I was so glad I read this book and I can't wait to read more of his work (once I finish all my WWEnd challenges, of course). This one fit nicely in my favorite sub-genre of religiously-themed speculation. If you're squeamish or puritanical about sex, or have issues with criticizing religion, or more specifically, the mixing of these two, this book is not for you. If you want to experience an amazingly written reflection on the fullness of being from the mind of a great science fiction and fantasy writer, "Godbody" is a must. 4 stars.