Completed 2/16/2014, Reviewed 2/23/2014
More than twenty-five years before Gore Vidal sent film crews and celebrities to make a media event of the crucifixion of Jesus, Michael Moorcock sent Karl Glogauer back in a time machine to see the crucifixion for himself. While not as humorously irreverent as Gore, Moorcock takes a skewed look at the foundation of Christianity through the eyes of an obsessed agnostic. The novel is an expanded form of the Nebula winning novella published in 1966.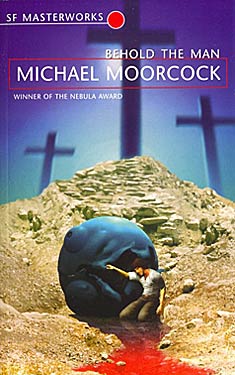 Beaten by camp counselors, molested by a choir director, bullied by classmates, failed at love, and questioning religion, Glogauer is very much a character straight out of many modern classic novels of the '60s and '70s. Think about crossing Updike and Roth, set it in urban England, and then speculate about time travel. Obsessed with crucifixion and crosses since he was a young boy, Glogauer jumps at the chance to travel back in time. to meet the historical Jesus and witness the crucifixion. Initially, he finds himself among John the Baptist and the Essenes, a community of Jews living austerely, according to the Torah, and awaiting the Messiah. After some time, he goes in search of Jesus, only to become a surrogate savior.
I really liked Glogauer. He's not a great man. In fact, he's quite pathetic. He's flawed in many ways, especially in his relationships with women. But in the space of this extremely short novel, Moorcock draws a complete character. I really liked the form of the novel, too. It jumps between significant points in Glogauer's life and his experiences in first century Israel. Interspersed with screams of pain and anguish, it sets the tone for the novel, the character, and the obvious outcome of his adventure.
One aspect I really enjoyed was that Glogauer spent time living among the Essenes. It called to mind two different thoughts. First, the book was published at a time when interest in the Dead Sea Scrolls was very high. Some of the contents of the scrolls included the Community Rule, rules of living with the Essenes. Moorcock's placing of Glogauer among the Essenes gives us a little insight into what was known of them in the mid '60s. Moorcock could have gone into a lot more detail here and I would have been thrilled. Instead, you get an just an amuse bouche of the ancient desert community.
The second point of interest is that there was (and may still be) a train of thought that John the Baptist was an Essene and Jesus lived among them as well, before beginning his public ministry. Moorcock uses this scenario to ease the reader into believing that Glogauer could simply slide into the role of not-so-reluctant Messiah after a few years in an ascetic community. In case you're wondering, Glogauer also happened to be a student of psychology and ancient languages, which makes a solo trip to the past a little more believable.
This is not for the religiously squeamish. The revelations about the Jesus and his family are sure to offend. But I think the message of the book is that the specific details of the beginning of Christianity are not significant. The fact is that this was a messianic, apocalyptic time which was ripe for a new religion regardless of what really happened and who it happened to. And this was going to screw up people for the next two thousand years.
This is a four star book. It's immediate, engrossing, and thought-provoking. I actually wished it was longer. There could have been a lot more exploration of the past and a lot more details of Glogauer's relationships, obsessions, and pathos. But what you get is worth the short ride.