Read 3/2013, reviewed 4/21/2013, revised 10/9/2018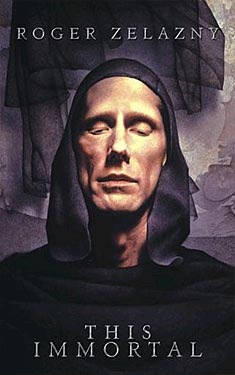 I love the genres of anti-hero and of mixing religion and theology with science fiction. Zelazny explores these themes in "This Immortal." I enjoyed this book. However, Zelazny more fully realizes these themes in his later work "Lord of Light."
Conrad is another reluctant hero, and apparently super-human in some way. But I didn't like him as much as I liked Sam in "Lord." I found it took a longer time than usual to get into both the character and the plot. The concept about a group a rich people going on a yacht trip in a post-apocalyptic world seemed a little strange at first. Nonetheless, I liked the premise of an alien doing a survey of the earth as an interplanetary high priced tourist attraction, and Conrad, our anti-hero involved in keeping this visitor from falling into the hands of the tribes of savages and the evil intentions of the government.
In reviewing this book, I'm a little sad that I don't have as strong an emotional memory of the book. I do remember feeling a bit let down, but overall liking the book. I didn't enjoy it quite as much as "Lord of Light," but I thought it was well written and realized. However, this was the first of three Hugo winners I read when my partner underwent radiation treatment. I stayed in an extended-stay motel so I wouldn't be contaminated by his radioactive sweat. I worried about him, and was trying to adjust to my temporary surroundings. I think this distracted me enough during these first few days of this ordeal that I couldn't devote myself to full immersion into the story. This is one I think I should re-read at some point in the future and review again at that time.
I gave this book 3 stars. I might change my mind in the future. What surprises me is that this book tied with Dune for the 1966 Hugo. I haven't read Dune since college. I'm saving the rereading for the end of this challenge. But even with my faulty memory of it from thirty years ago, "This Immortal" seems like a lightweight compared to Dune. I'm guessing that Zelazny had (has) a huge fan base, and with this book finally getting Zelazny on the ballot, his fans came out in droves to vote for it.