Completed 11/12/2018, Reviewed 11/12/2018
This is the third book of the original Earthsea Trilogy.

It's by far the toughest of the three books.

It spends a lot of time on the difficult journey of the two main characters and poses philosophical questions about life and death.

I had a much tougher time getting into the story and the characters than I did in the first two books.

I even had a tough time with the prose.

It felt like LeGuin was trying too hard to write an ultimate conclusion to the trilogy.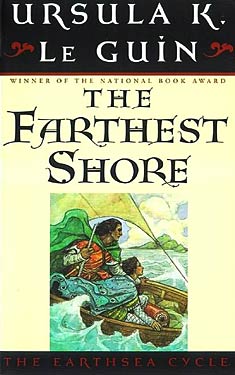 Taking place quite a while after "The Tombs of Atuan", magic and true names seem to be disappearing from Earthsea.

Mages in different parts of the archipelago are being ostracized or going insane from their inability to use magic or invoke true names.

Sparrowhawk, now an Archmage, goes on a quest to find the source of the evil and put a stop to it.

He takes along Arren, a young prince, as his companion, for Sparrowhawk has foreseen that it is necessary to bring him along.

Their quest takes them on a journey to the farthest shore at the end of the world where they must confront the ultimate evil.
The book is told from Arren's point of view.

Like the main characters of the previous two books, Arren is young.

He is filled with angst, not normal teen angst, but an existential angst that throws into question his decision to follow Sparrowhawk.

He questions the use and non-use of magic in small things like conjuring of winds to push their boat along all the way up to the granting of eternal life.

He despairs in the middle of the journey, questioning Sparrowhawk's sanity, but then is filled with hope and loyalty as he comes to his senses.
Sparrowhawk is now an old man.

He's no longer the brash, young apprentice as in the first book, nor the well-humored mentor of the second book.

Here, he's quiet and introspective, not saying much unless he is prodded by Arren.

And that's a shame, because he's not as interesting in this novel as he was in the first two.

And for all his angst, I don't feel like Arren is that interesting either.

Maybe it's because their journey is so long and relatively uneventful.
I give this book three stars out of five.

Like the previous two books, it is low on plot, but this one is high on philosophy, which I found to be a bit of a slog.

It seems like blasphemy to give LeGuin three stars, but not every book can be a home run.

Despite not caring much for this book, I'm still looking forward to the next three because they were written so much later.

It will be interesting to see where she goes with the next books.