Completed 4/27/2017 Reviewed 5/4/2017
I'm just dying to say "Tinker" is a stinker, but it's a tad more complicated. I went in thinking the book was going to be fluff, but it turned out to be partly fluff, partly really heavy. Unfortunately, the heavy parts were taken lightly which I found very disturbing. There's going to be some spoilers in this review, so don't continue if you think you're going to read it.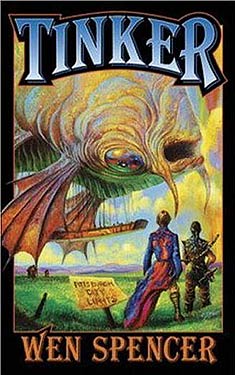 Tinker is a young woman, just turned eighteen, who lives in Pittsburgh. However, it's a Pittsburgh that mainly exists in another dimension. You see, the Chinese built an interdimensional gateway and they don't know exactly how it works. A side effect is that the city of Pittsburgh spends most of each month in a dimension of elves and magic and monsters. Once a month, for a day, it exists back in our dimension in its normal location. Tinker has lived in this travelling Pittsburgh her whole life, running a junkyard, building contraptions, and just being brilliant and pretty. Of course, she doesn't know just how brilliant or pretty she is, because, well, she's a Mary Sue.
For those that don't know, a Mary Sue is a character that is usually young, pretty, and smart, sort of an idealized and perfect fictioinal character. Flaws are usually minimal. Think Wesley Crusher from Star Trek Next Gen. When this is the main character, the book can become a bore because the character lacks in realism.
One day, while being chased by wargs, an elf comes to her rescue, but is badly injured. In the process of getting him healed he falls in love with her, though. She's oblivious to this though does find him exceedingly attractive. In fact, she's naïve about most things. Thus begins a journey which forces her to confront who she is and where she's going.
The plots are the subplots, and vice versa. The story is really about who does Tinker love. The action and everything else are really the subplots to Tinker's love life. It's sort of the opposite of how most science fiction and fantasy books work. But even more problematic is the nature of her love life. It's full of non-consensual acts. Okay, two. I think it's okay to have story lines like these in a book, but they need to be dealt with in realistic ways. In this book, they don't have the drama that comes after the act. It all kind of "goes away". In fact, one of the perpetrators actually disappears from the story. I have to assume he comes back in a later volume. I guess what I'm trying to say is that if you're going to have mature devices, there has to be a level of maturity to the story. "Tinker" doesn't have that.
There's another scene which is pretty horrific that involves one of the bad characters. Again, it seems that it just isn't done well. I think a good example of how it could be handled well, while still being deplorable, is in Richard K. Morgan's The Cold Commands, a dark fantasy where the lines between good and evil are blurry, and it solidifies the main character as an anti-hero.
As far as everything else in the book, there are some interesting characters. I particularly liked Oil-Can, her cousin. Yeah, the names get to you after a while. The world building is pretty good, mixing science and magic. But again, I've seen better mixes of science and magic, for instance, N.K. Jemisin's The Fifth Season.
Maybe I'm just over sensitive, or maybe it's because I was expecting something different, but I didn't like this book. The last quarter became a chore to read. I'd like to see how other people respond to this book. This was a book club selection, so I'm interested in seeing where the lines are drawn between the likes and the dislikes. Two out of five stars.